Remember that classic scene in the movie "When Harry Met Sally" when that elderly lady said to the waiter, "I'll have what she's having" after Sally made that hilarious orgasmic scene?
Sometimes that's how we see other women who are operating at a higher level of success than us.
We compare ourselves. We want to be like them. We want what they've got.
But the truth is what we are drawn to is a version of ourselves that is wanting to be expressed.
We see our own potential in people we admire.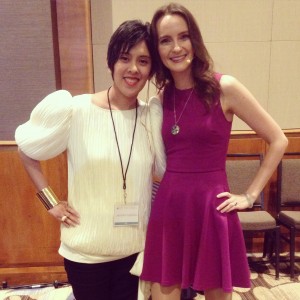 That's what happened to me this past weekend at a conference called "Off The Charts."
This is a pic of me and the brilliant event host, Nathalie Lussier.
I so admired her and all the amazing speakers.
To be honest, I was a bit intimidated by all of the success they had created for themselves.
I secretly wanted that thing that they all had. That special something. That intangible magic that drew others to them.
But by the end of the live event, I could totally see myself having that level of success – in my own way.
I realized the truth. That magic does not come from anything outside of ourselves.
That special something comes from being deeply rooted in who you are at the core.
It's about fully owning who you really are. With all your strengths and vulnerabilities.
What I admired in them was my desire to express more of my own power. Power with my own quiet voice.
So, the next time you catch yourself feeling envious of someone you admire, take a moment to ask yourself, "What is it about that person that I want to express in myself?"
Because the truth is they are just a mirror reflection of your own greatness just wanting to be unleashed.
You are more than enough.
So own it.
And give yourself permission to have what you've already got.
Would love to know who you admire and what they represent in you? Please share your comments below.