DAWNING SOUL POETIC GOOD COLLECTION
ROCK YOUR INNER BEAUTY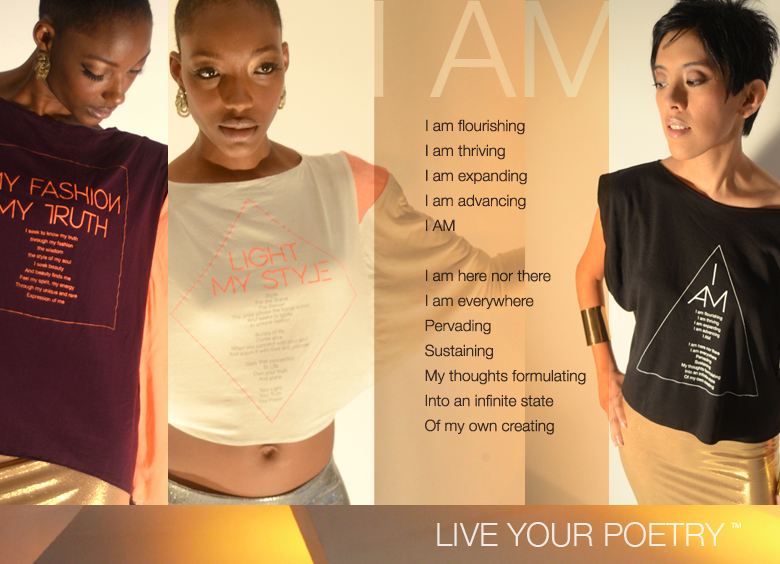 I created my poetic apparel collection to help you radiate your true inner beauty. I have a passion for poetry, design and fashion and am inspired to use fashion as a powerful medium to help you express the rare beauty and power that you naturally possess.
I specially designed each piece with one of my original poems to encourage you to be brave and shine your inner light. My greatest hope is that through my words and design, I can inspire you to "Live Your Poetry" and express all of who you truly are. You, just as you are is a gorgeous blessing to the world. Check out my online shop here: http://www.etsy.com/shop/dawningsoul.
JOIN THE MOVEMENT: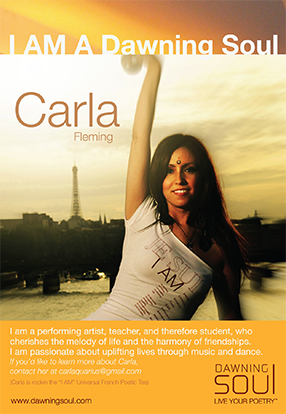 If you'd like to join my Dawning Soul Community and be featured as an inspiring Dawning Soul to share your story and passion, please email me at info@dawningsoul.com. You can check out all of the amazing individuals featured here: http://dawningsoul.tumblr.com/
MORE RESOURCES:
SPIRIT OF STYLE E-BOOK
Be Beautifully Magnetic.
Express who you truly are from the inside out.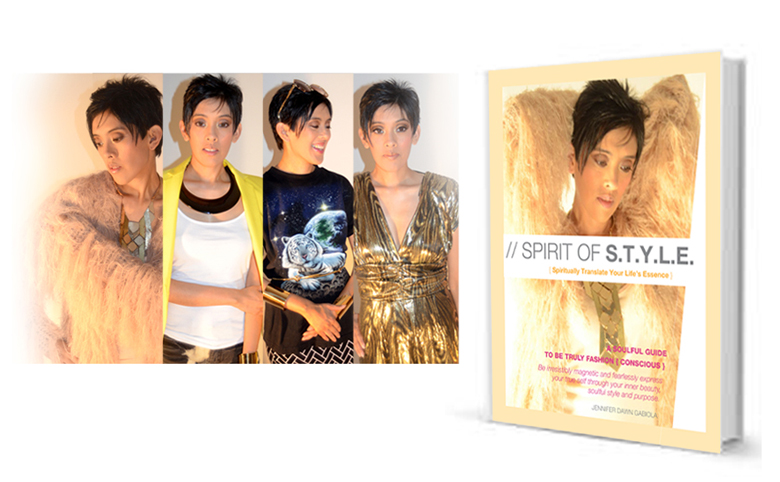 DOES THIS SOUND LIKE YOU?
• You love beauty and fashion, but not the superficial pressure to look a certain way in order to feel accepted.
• You love expressing yourself through beauty and fashion, but still feel disconnected from yourself as if you're trying to fill a void.
• You are a high-achieving fashionista always striving to be and look your best, but secretly deep down feel like you're not good enough.
• You project a self-image that you have it all together, but deep down are afraid to show your true self because you don't want to be rejected.
• You're tired of comparing yourself to others and being so self-critical.
• You're not sure how to genuinely express who you truly are on the inside and reflect this on the outside and are looking for a way to express your unique beauty and style that's all your own.
THIS BOOK IS FOR YOU IF:
• You're ready to express your true beauty and style in a fresh and empowering way.
• You want to feel happy and whole in your own skin by being deeply connected with who you are.
• You want to feel more confident and validating your own worth.
• You want to become magnetic attracting your ideal life as the most radiant version of yourself by using your own natural beauty and soulful style.
• You're ready to become the leader you were born to be by sharing your own creative expression of beauty with the world.
THIS MAY NOT BE FOR YOU IF:
• You are looking for the latest style trend or beauty tips that only focus on your outer appearance.
• You're not willing to go beyond the surface to express the deeper parts of who you are.
• You are not willing to stand out in the crowd.
• You don't want to express all of who you truly are.
• You're not open to go outside your comfort zone and discover a fresh and empowering way to see beauty and style.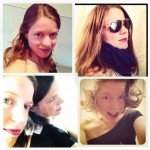 "Jennifer Gabiola has revolutionized the way I look at style, fashion, and the formerly mundane act of getting dressed in the morning. As a spiritual person, I judged fashion as trite and uninteresting. I rushed through my morning routine, going for comfort and practicality when choosing my outfit or wearing the same 'professional outfits' day after day as if they were a uniform. 
 Now I get it! Having read Jennifer's transformative "Spirit of S.T.Y.L.E." e-book, I have opened my eyes to the fact that getting dressed can be a sacred act. I can intentionally tune into my truest self when I get dressed in the morning. As I am on a continuing quest of embodying and expressing my unique essence in the world, I discovered a missing piece. Now, I will create my own style that authentically reflects my uniqueness. My fashion can be a celebration of my inner truth and beauty. How fun!
 After finishing this book, I rushed right into my closet. I tuned into my inner-self and found my way to an outfit that felt like ME. Wearing it (which happened to include Jennifer's Dawning Soul "I AM" Poetic Tee), I felt inspired to take an impromptu photo shoot. My outer self was congruent with my inner self and I wanted to capture my newfound inner connection and ease. I'm seeing my beauty in a whole new way and it feels honoring to my body and soul.
 Thank you, Jennifer. I now have a sacred, intentional, inspirational way to start my day by dressing to express who I truly am."
$39