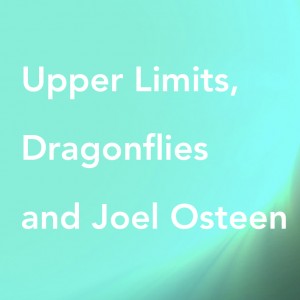 So, I've had this upper limit issue for the past several days. I got sick and have been slowly getting my energy back. I've been going full force for the past few months with my "Quiet & Fierce" VIP Day in NYC and Visibility Challenge.
But I wanted to get some divine guidance on what I am meant to learn from this unexpected physical experience. So on Friday night, I set an intention to receive guidance the following morning.
On Saturday, I woke up with this message: "Cultivate joy despite the circumstances. Do not be dependent on outside circumstances in order to feel good. Deepening your own consistent source of joy will help you to be feel whole." Totally relevant because I was feeling a lot of resistance about some things not turning out as planned.
Later that morning, I went outside to get some fresh air. I saw a big dragonfly buzzing around that flew quite close to me. I was curious and looked up what dragonflies meant. It said to keep things light and joyful. And to move past the surface illusion of situations and to believe in the truth for deep personal transformation.
Again, the message of joy came to me. Interesting…
Then, the message I got on Sunday really hit home. I watched Joel Osteen on TV and he said "When you rest, God goes to work. When you work, God is at rest." BOOM. That message was what I needed to hear in that moment. I can give myself permission to rest as much as I need and that God will work on my behalf. My job is not to always make things happen myself. Since receiving this message, I'm focusing less on my own ability and more on being a clear channel for what God is meant to do through me.
Over the past few days, I received so much divine guidance that came from the most unexpected places. I'm trusting more and more that Life is always sending us support. We just have to allow ourselves to receive it.
And that as a leader, we are not meant to always have the answers or never make mistakes. Being a real leader means having the grace, humility and self-awareness to seek the truth no matter where it comes from.
I'm learning that we are ultimately responsible for ourselves and our own well being. As we create our own version of success, we don't always have to make things happen ourselves. We are meant receive support and create success with joy and ease. Yes, we are meant to take consistent inspired action, but rest is an essential part of our creative process. Rest is when God goes to work. For us.
Would love to know if you can relate? Please share a comment or story about how Life supported you with what you needed most.