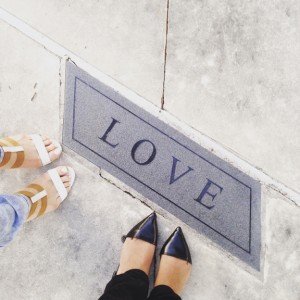 As an introvert, I love going deep and creating real connection.
When I went to see Gabrielle Bernstein speak at an event here in H-town last week, she was speakin my language. She shared so much truth and definitely went deep to allow for genuine connections to be made – within ourselves and with others.
3 AHAs really struck me that night. I hope these truths speak to you too.
1. Recognize that your fear is your resistance to love.
She shared two powerful quotes to bring home this point. "The wound is the place that the light enters you." And "When you are cracked from the outside, you are broken. When you crack from the inside, you are born."
She shared that the goal is to ultimately thank your wound for its wisdom. And in order to do that, call on compassion to clear the path to lovingly guide yourself out of the fear.
2. Have big talk, not small talk.
Share authentically with others beyond surface conversation. Connect with people that you feel can hold a safe space for you to honestly share. When you genuinely share from your heart, you allow for real human connections to be made.
3. You are doing God's work.
Thank God for sharing what needs to come through you. Know that it is your duty to express this truth. Focus less on yourself and more on how you can serve others.
Would love to know which truth resonates with you the most and why.
Much Love,
Jenn
P.S.
One last truth spoke to me and lifted my spirit. Gabrielle said when you feel helpless, help people that need it most. I was feeling heart-broken about the devastating flood here on Houston. She inspired me to create a GoFundMe campaign to help my community rebuild. Proceeds will go to the Greater Houston Storm Relief Fund. In exchange for your generous donation, I am providing support for my fellow introverted leaders to share their quiet voice and make an impact.
You can click on all the details here: https://www.gofundme.com/helphoustonflood