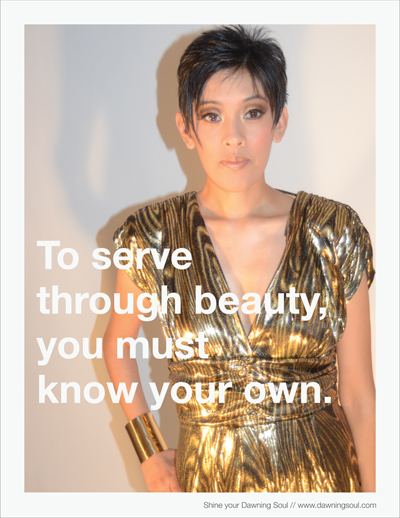 You're good at what you do. You are passionate about helping women look and feel beautiful through your unique talent.
You are a natural leader. You are self-motivated and love helping others.
But how do you make a deeply meaningful impact on the lives that you touch?
In order to be a truly serve through beauty, you must know your own.
You have to honor your own beauty before you can truly make a difference in the lives of others. When you acknowledge all of who you are, you can support others with your own self-acceptance and self-love.
Accepting your own beauty is not always pretty. Acknowledging all the many facets of you, especially the dark sides are a part of your own healing process.
It's not about perfection. That is not real. When you accept all of who you are with all of your beautiful imperfections, then you can feel happy and whole in your own skin.
To deeply serve through beauty means sharing your true self. As a leader, you are meant to share your expertise as well as your vulnerabilities. Your personal story, the good times and the challenges, all make up who you are. Your testimony is how you genuinely connect with others and inspire others with your gift.
You are a unique human being meant to bless others with your unique perspective of life and beauty.
Own all of who you are. Radiate your light from the inside out. You are being called to lead through your rare expression of beauty.