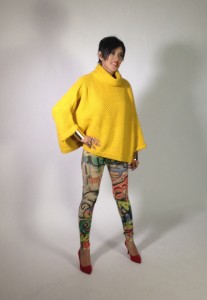 This weekend, I followed through on a divinely inspired, yet terrifying idea.
Before I go on, I want to mention that back in Dec, I decided that one of my words of the year for 2015 was "Power". Not power over people, but  personally owning my power more fully.
Ok, back to my story. My divinely guided idea…I did my own photo shoot to express my inner beauty and power. I felt vulnerable, uncomfortable, outside my comfort zone, but I did it to help me feel more powerful in my own skin. As an introvert, I'm not really comfortable in front of the camera.
But I've been feeling this deep calling to boldly express my own power. Unapologetically. I wanted to feel fierce. I wanted to feel strong. I wanted to feel sexy. But in my own way. I wanted to own my power. For me. And I did.
After doing the shoot, I realized that it's a real process in order to feel more confident with who you know you are on the inside. You can feel awkward in one moment and then feel fierce in the next. They're all honest moments. All moments of growth.
Just because I wanted to feel more fierce and powerful doesn't mean that I also can't feel vulnerable. It will take time to get more comfortable with fully expressing all of me. It's all a process. It's all progress. And I'm proud of myself for doing this photo shoot to feel more of who I am.
I'm sharing my story so you can fully receive this message:
Your real beauty begins on the inside. And expressing that beauty on the outside is a sacred celebration of your truth.
Love and honor all of you. The vulnerability and the strength. The fears and the courage. Be honest with how you really feel in the moment. Own it. They're all valuable parts of who you are as a whole. When you can accept all of you, you are able access your real power.
Unapologetically express your truth in your own way. Because your beauty is for you to define. And own. Powerfully.
P.S.
I'll be sharing more from my Inner Beauty photo shoot soon…