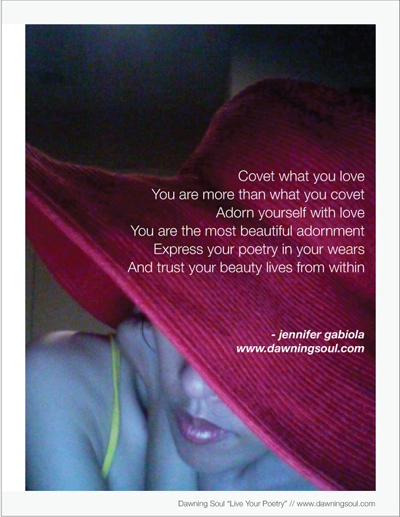 We all love beautiful things. Some things just speak to us. We don't know why, but they just do.
What if we dug a little deeper into the things that we identify with? For example, I love the floppy red hat that I'm wearing in the photo above. I love the color and the grand shape of the hat.
But what does it say about the me on the inside? I love to feel glamorous. Not in a high-end, high maintenance type of way. I love to feel alive and to radiate luxury in my own effortless and creative way.
I choose things that are not necessarily "on trend" or "in style." I create my own style in a very organic and creative way. I remain present and go for things that make my heart happy and light. I don't question it. I just know when I love something.
But here's the trick…
Love what you love. It says a lot about who you are at the core. 
But your favorite things are not you. They are meant to enhance the rare beauty and unique expression that you already are.
Nothing outside of us is the end all be all. Our power comes from within.
Enjoy the beauty of your favorite treasures. We are meant to enjoy all of the amazing things in this physical world.
But always remember that these things are meant to help express the unique essence and beauty of your true self.
I'd love to know. What are your favorite things you just love to wear. And most importantly, why do you love them? What do these things say about who you are?