YOU ARE A LEADER OF BEAUTY.
IT'S TIME TO SHARE THE GORGEOUS EXPRESSION
OF YOU AND YOUR PASSION.
LET'S CHANGE THE WORLD TOGETHER.
Do you have a real passion for beauty and fashion, but not the superficial pressure that comes with it?
Do you want to express your true voice and passion in fresh and authentic way?
Feel like your brand is all over the place, or even non-existent?
Do you need to get crystal clear on the unique value you bring to your clients?
Looking to find a beautiful way to tie your ideas together?
Want to serve your dream clients in a deeper, more meaningful way?
Want to make a real difference in the world through your passion for helping women look and feel beautiful?
DO YOU STRUGGLE WITH…
Translating all of your ideas into create a meaningful beauty brand that truly stands out in the image-based world of the beauty and fashion industry
Feeling confused on how to communicate the real value of your beauty business
Not having enough ideal clients
Feeling overwhelmed with not enough time to promote your brand in an effective way while juggling all of the responsibilities within your business
Not having a big-picture plan and knowing what the right next step is to take to promote your brand
Feeling afraid that you don't have what it takes to create and maintain long-term success
Needing support and accountability to clearly carry out your vision
THAT'S EXACTLY WHAT I'D LOVE TO HELP YOU WITH.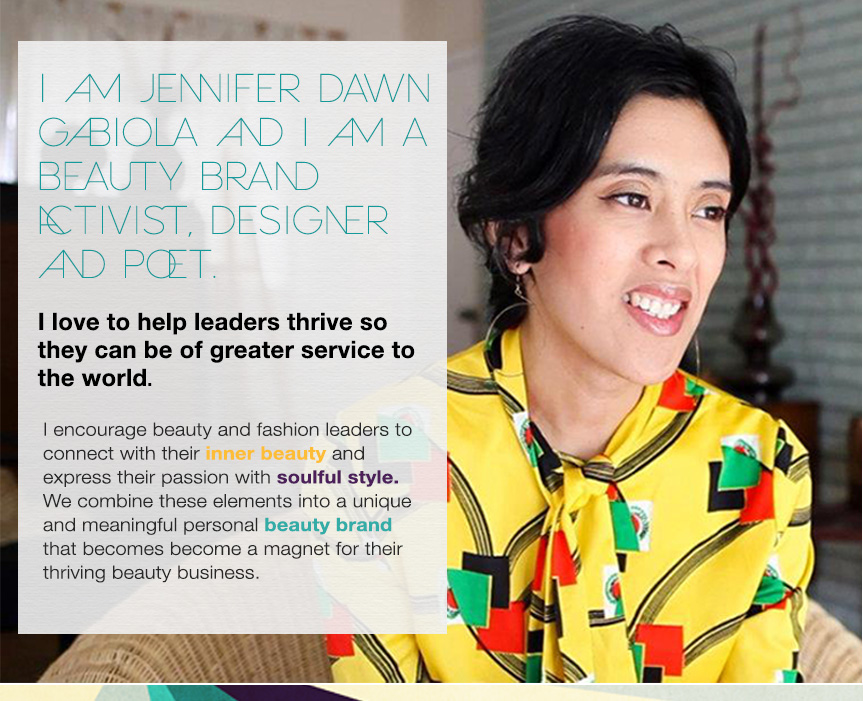 Through gorgeous design, words and authentic strategy, I coach women to make their brilliant mark on the world by leading their own beauty movement. My passion for helping women to radiate their true beauty also shines through my inspiring poetic apparel collection.
YOU ARE A DAWNING SOUL MEANT TO HONOR YOUR TRUE BEAUTY AND PASSION.
I believe you are here for a greater purpose. You are beautiful inside and out, just as you are. Your soulful style is truly about your way of being in the world. It's your unique expression of the essence of you. You are created for a divine reason and I want to support you to fully express your truth and purpose. The world needs you to shine as the leader you are meant to be and share your unique expression of beauty.
MY STORY
After spending 12 years as a design director specializing in branding and design, my life came to a sudden halt. Through the loss of my career and my illness, I learned exactly how valuable the inside is. At the time, my sense of self-worth was based on things outside of myself — my career and my self-image. I took my health for granted. It was truly a humbling experience when I was diagnosed with Rheumatoid Arthritis, a debilitating disease.
I took a few months off to find my center. I made a promise to myself to rebuild my life. I instinctively used my passions for poetry and fashion to find my way back. Dawning Soul started out as my way of healing my life and then ultimately became my business and life's work. With lots of faith and courage, I built myself back up from the inside out and now use my passion to help other women honor their own inner beauty and purpose.
I HAVE A HEART FOR THE BEAUTY AND FASHION INDUSTRY, WHICH IS WHY I'M HERE TO HELP YOU.
I work one-on-one with clients through my private Beauty Brand coaching programs. I help soulful leaders in the beauty and fashion industry create meaningful beauty brands that genuinuely communicate their voice and true value through gorgeous design, words and authentic strategy. My goal is to help you attract your dream clients and have more freedom to focus on what you love while making a real difference in the world.
I created my Dawning Soul Poetic Good apparel collection to help you express your true self. Through each lovingly handcrafted piece, I encourage you to celebrate who you are and to wear your inner beauty on the outside. You can check out my collection here.
If my work resonates with you, I'd love for you to be a part of my growing Dawning Soul community and feature you and your brilliant passion in my blog. Contact me for more details.
A BIT MORE ABOUT ME
One of my favorite things to do is share a beautiful meal with my family and close friends. Good company + good food (including a divine dessert) = Happiness.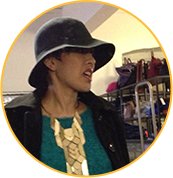 I also have a real passion for vintage clothing. I love that vintage pieces have their own story and character which allows you to express something all your own. I have an eye for finding one-of-a-kind treasures at a bargain.